Skip to product information
Shelf Stable Vegetable Microgreen Powders - Freeze Dried
$60.00
Shipping Policy:
Free Local Delivery - No Minimums
Free Nationwide Shipping - $75 Minimum Order
Free Local Delivery: Orders will be processed within 3 days, for available varieties, and delivered promptly thereafter. Delivery is available throughout the local area, ensuring quick and reliable delivery services to our valued customers.
Nationwide Shipping: We also offer nationwide shipping to cater to customers outside of our local delivery areas. Orders will be processed and dispatched within 3 days, for available varieties. The estimated delivery time will be provided after purchase, based on the location.
Return Policy
Local Returns: For our local customers, orders can easily be replaced. Please contact our customer service if there are any issues with your purchase, and we will arrange a replacement promptly.
Nationwide Returns: We offer a no-hassle return policy, ensuring that our customers can shop with confidence.
Customers who wish to return their purchases can do so for free. Please reach out to our customer service to facilitate the return process. Please feel free to contact our customer service for any further queries or assistance regarding shipping and returns. We are here to help!
🔒 Shop with confidence! We offer a 30-day money-back guarantee. We believe in our product and its benefits, and we want you to feel the same.
Shipped Nationwide!

Nutrient Dense Microgreen Vegetable Powders
Shelf Stable Vegetables - Ultra Dense Natural Nutrition
Add to Food and Smoothies...

Welcome to the future of fresh, shelf-stable vegetables with Revity Farms' freeze-dried microgreens. In our quest to deliver freshness, taste, and convenience, we've harnessed the power of freeze-drying to lock in all the vitality of our lovingly-grown microgreens. The result? Green goodness that you can carry with you, wherever you go, adding a vibrant nutritional burst to any meal, any time.
🌱 No Fridge? No Problem! Never again will you have to worry about wilted greens or that dreaded use-by date. Our freeze-dried microgreens are there when you need them, delivering peak flavor and nutrition without the rush against time. Sprinkle them into soups on cozy evenings, fold them into omelets at sunrise, or garnish your dinner party dishes to impress your guests. Or simply stock up your emergency supplies with freeze dried, shelf stable, nutrient dense vegetables. No fillers. No additives. Grown and freeze dried on the farm!

🌱 Supercharge Your Smoothies! Imagine starting your day with a nutrient-dense smoothie, supercharged with our broccoli microgreens. For an easy, high-powered breakfast, blend 1 banana, a handful of fresh berries, a scoop of Greek yogurt, a dash of honey, and a spoonful of our freeze-dried microgreens. The result? A super smoothie to kickstart your day, bursting with antioxidants, vitamins, and minerals.
🌱 Pocket-Sized Power! Whether you're on a camping trip or a long-haul flight, Revity Farms' freeze-dried microgreens offer pocket-sized power that's perfect for on-the-go nutrition. So why settle for less? Amp up your nutrition and taste, no matter where life takes you.
1 Ounce of Fresh Microgreens = 1 Gram Freeze Dried = Ultra Dense Portable Nutrition
Experience the power of our freeze-dried microgreens and redefine what it means to eat well.
With Revity Farms, you're not just making a meal; you're making a lifestyle change. Taste the future of nutrition and join the Revity revolution today
Nutrition and Flavor Profile:

Radish Microgreens

: Spicy, high in vitamins A and C, antioxidants, and fiber.

Broccoli Microgreens

: Packed with antioxidants, very beneficial for heart health.

Arugula Microgreens

: Peppery, full of Vitamin K, promotes bone health.

Sunflower Microgreens

: Nutty, a good source of protein and Vitamin E.

Pea Microgreens

: Sweet, high in protein and fiber, promotes digestion.

Kale Microgreens

: Mild, loaded with Vitamin K, good for bone health.

Beet Microgreens

: Earthy, rich in iron, boosts blood health.

Mustard Microgreens

: Spicy, high in antioxidants, boosts metabolism.

Basil Microgreens

: Fragrant, packed with antioxidants, aids digestion.

Chia Microgreens

: Nutty, rich in Omega-3, promotes heart health.

Wheatgrass Microgreens

: Sweet, loaded with chlorophyll, detoxifying.

Cilantro Microgreens

: Fresh, full of antioxidants, supports immune function.

Red Amaranth Microgreens

: Earthy, high in Vitamin K and E, supports eye health.

Spinach Microgreens

: Mild, rich in Vitamin A and C, supports vision.

Swiss Chard Microgreens

: Bitter, packed with Vitamin K, good for bone health.

Alfalfa Microgreens

: Nutty, rich in Vitamin K, supports blood clotting.

Buckwheat Microgreens

: Fresh, packed with bioflavonoids, supports blood health.

Carrot Microgreens

: Sweet, high in Vitamin A, supports vision.

Lentil Microgreens

: Nutty, packed with protein, supports muscle health.

Collard Microgreens

: Mild, high in calcium, supports bone health.

Garlic Chive Microgreens

: Spicy, loaded with antioxidants, promotes heart health.

Celery Microgreens

: Fresh, rich in Vitamin K, good for bone health.

Cauliflower Microgreens

: Mild, loaded with antioxidants, supports heart health.

Parsley Microgreens

: Fresh, packed with Vitamin K, supports blood clotting.

Sorrel Microgreens

: Tangy, rich in Vitamin C, boosts immunity.

Plus many custom varieties and salad mixes. Ask our team for additional varieties.

No Compromises In Quality

100% Satisfaction Guarantee

Free Local Delivery
🌱 Fresh Daily Serving of Greens
We utilize advanced freeze-drying techniques to ensure maximum nutrition is retained in every scoop of our microgreens.r options cater to everyone.
🥤 Unparalleled Taste and Texture
Our microgreens offer a unique flavor and consistency that seamlessly integrates with any beverage or dish, elevating its taste and nutritional profile.
🌾 Locally Grown with Care
At Revity Farms, we take pride in cultivating our greens right here in the USA, ensuring they're free from harmful pesticides and sustainably sourced.
Revity Farms' Freeze-Dried Microgreen Powders: The Evolution of Nutrition
🍃Organically Grown • Non-GMO. Farm to Table
🌱 Unlock Boundless Nutrition: No Boundaries, Just Benefits
Revity Farms is ecstatic to bring you the next generation of nutrient-packed, shelf-stable greens – our Freeze-Dried Microgreen Powders. No wilting, no expirations, just pure and potent nutrition waiting to nourish your body.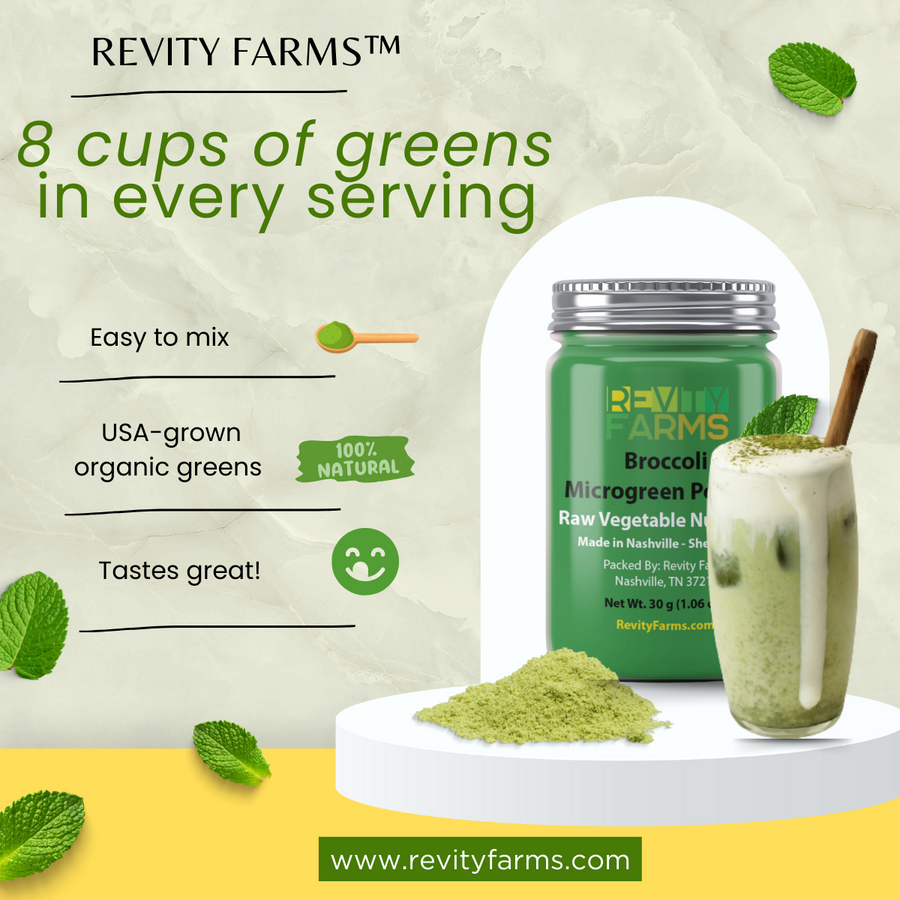 Why Our Microgreen Powders?
Portable Shelf Stable Nutrition: Carry the concentrated goodness of our farm-grown microgreens anywhere. Perfect for enhancing meals during travel, outdoor activities, or busy schedules.

Versatile in the Kitchen: Enhance your meals subtly and nutritiously. Ideal for mixing into ketchup, soups, or other recipes where you desire nutrition without a strong flavor impact.

Smoothie and Juice Enhancer: Elevate your beverages. Easily mix into orange juice shots or other drinks for a boost of nutrients without altering the original taste significantly.

Concentrated Purity: Our process retains the essential nutrients while reducing flavor intensity. Resulting in a pure, potent microgreen powder free of any fillers or additives, and more adaptable to a variety of consumption preferences.
WHAT CUSTOMERS LIKE YOU ARE SAYING
14,000+ HAPPY CUSTOMERS
Christi L.
"My doctor emphasized adding more greens to my diet, and that's when I discovered Revity Farms' microgreen powder. It's incredibly pure and the taste? Simply delightful. I've seamlessly blended it into wraps, salads, and smoothies. If you're contemplating, give it a go. It's a health game-changer."
⭐⭐⭐⭐⭐
Amanda F.
''Getting my kids to eat greens was a struggle until I found Revity Farms' microgreen powder. Now, they don't even know they're eating something so healthy! Every mom's secret weapon.''
⭐⭐⭐⭐⭐
Tom W.
'''I've tried various green powders before, but none of them come close to the rich, natural flavor of Revity Farms' microgreen powder. It's a game-changer for my daily shakes!''
⭐⭐⭐⭐⭐
🌱 Your Nutrition, Amplified
1 Ounce of Fresh Microgreens converts to 1 Gram of our Freeze-Dried Powders.
Meaning? Every spoonful packs a potent punch of wellness, ensuring you get maximum nutrients in minimal volume.
Your Guide to Green Greatness
Radish Microgreens: A spicy burst enriched with vitamins A, C, and brimming with antioxidants.
Broccoli Microgreens: A heart health hero loaded with antioxidants.
Arugula Microgreens: A peppery palate pleaser filled with Vitamin K for bone health.
Sunflower Microgreens: Nutty notes packed with protein and Vitamin E.
(... and many more fabulous flavors and health benefits!)
🌱 Customize Your Green Goodness
Beyond our vast variety, we have bespoke blends and salad mixes tailored just for you. Intrigued by a specific green? Our team is at your service to introduce you to new varieties.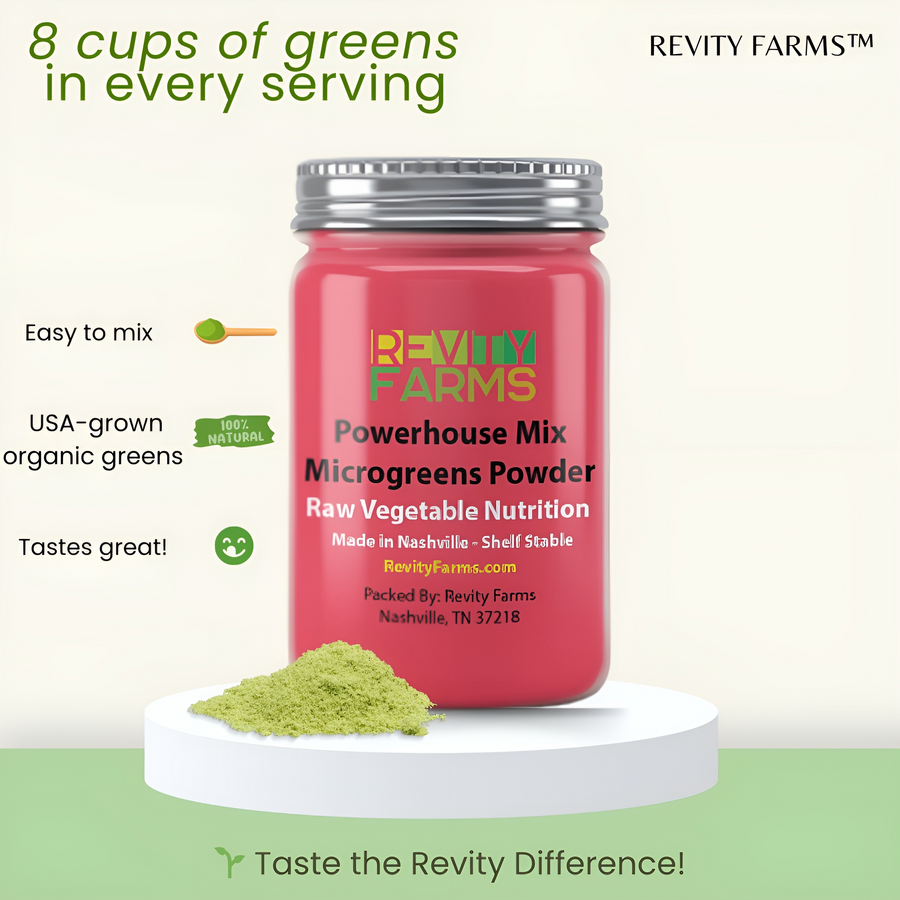 🍃 Embark on a Nutritional Journey with Revity Farms
By choosing our freeze-dried microgreen powders as a wholesome addition to your meals. It's a practical way to integrate more nutrients into your diet, reflecting a commitment to a healthier lifestyle. Experience the mindful choice of quality and sustainability with each serving from Revity Farms.
Experience Nutritional Quality and Conscious Choices with Revity Farms. 🌱
FREQUENTLY ASKED QUESTIONS
In essence, the secret lies in the potent nature of microgreens—the young shoots of vegetables teeming with nutrition. These tiny plants, which are harvested just after the sprout phase, pack a powerful punch in terms of vitamins, minerals, and antioxidants.
At Revity Farms, we cultivate these greens in state-of-the-art indoor environments, ensuring they're free from harmful substances like pesticides or herbicides. This commitment to purity means our greens don't just match organic standards; they often surpass them.
Our unique freeze-drying method then comes into play, removing only the water content while leaving the rich nutrients untouched. This process amplifies the density of the nutrients, giving you a powder that's both highly concentrated and immensely beneficial.
To sum it up, Revity Farms powder offers the wholesome goodness of raw microgreens but with the convenience and versatility of a portable format. Whether you're at home or on the move, enriching your diet has never been easier!
No, freeze-drying is designed to preserve the nutrients, not destroy them. By removing only the water content, the cellular structure and nutrient profile of the greens remain intact.
Our microgreens powder, crafted through meticulous water removal processes, delivers a subtle yet enriching flavor, making it a versatile addition to a myriad of dishes and drinks.
This gentle flavor profile allows the powder to blend seamlessly, enhancing your meals and beverages without overwhelming them with a strong taste, thus broadening its applicability and ease of use.
Yes, all our microgreens are organically grown without the use of synthetic pesticides or chemicals. We prioritize using natural farming methods, ensuring our products are free from harmful chemicals.
The modern lifestyle often leaves little room for consistent, nutrient-rich meals. Many of us fall short of the recommended daily vegetable intake. Our microgreen powders are a bridge to this nutritional gap.
With our freeze-dried microgreens, you're harnessing the power of traditional vegetables condensed into a convenient form. Regardless of a hectic schedule or frequent travels, you can effortlessly incorporate a potent dose of essential vitamins and minerals into your diet. It's an efficient way to ensure you're nourishing your body, especially when fresh veggies aren't within reach.
Ensuring that everyone in the family, from children to the elderly, receives adequate nutrition can be challenging. Our freeze-dried microgreen powders are a versatile solution to enhance the diets of all age groups with essential vitamins and minerals.
For Kids: Getting kids to consume enough vegetables can be a struggle. Our microgreen powders can seamlessly blend into their favorite foods, enhancing the nutritional value of their meals and snacks without altering taste significantly.

For the Elderly: As dietary needs change with age, our microgreen powders offer an easy-to-consume source of concentrated nutrients. They are a simple addition to various dishes, helping to ensure that the elderly receive the wholesome nutrition necessary for maintaining health.

Our microgreen powders simplify the path to improved nutrition, making it easier to meet the diverse dietary needs of each family member in a convenient and adaptable way.
Unlike many supplements on the market that rely on global sourcing and thus have limited oversight of their ingredients, we take an entirely different approach at Revity Farms: We GROW our ingredients, not just source them. Situated in Nashville TN, our innovative indoor farm allows us to maintain complete control over every stage of the growing process. This unique approach ensures that our greens are consistently devoid of pesticides, herbicides, and any additives. In essence, our commitment ensures that our products surpass even the highest organic standards in purity and sustainability.
Flavor-wise, Revity Farms sets itself apart. Derived purely from microgreens—which are proven to be up to 40 times richer in nutrients than their mature counterparts—you only require a mere 3/4 teaspoon for your daily dose. This modest serving size not only results in a much milder taste compared to other greens powders but also ensures seamless integration into your daily routine. With Revity Farms, nourishing your body becomes as simple as it is effective.
Revity Farms prides itself on its sustainable sixty-acre farm situated in Nashville, TN. Every microgreen you receive is cultivated here and is ensured to be in your hands within 24 hours of its harvest.
Freeze dried microgreens can last a year or longer when properly stored